Hardwood Windows in Witney, Oxfordshire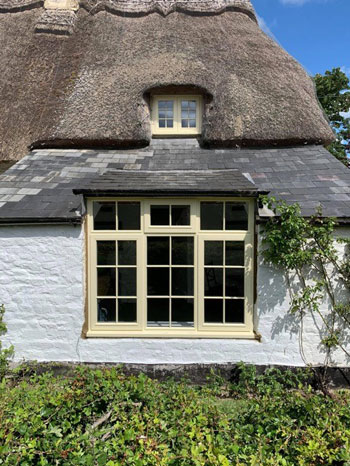 Location: Near Witney, Oxfordshire
This beautiful Grade II listed partially thatched property in Witney, Oxfordshire recently benefited from the addition of new hardwood timber windows and a stable style door.
Our clients wished for us to replace the old, wooden, rotting windows which were single glazed with something that retained the character of the property and looked very similar to their previous windows.
We were able to show the client photographs of another recently completed project which illustrated just how a home can retain its character with hardwood windows in Witney, Oxfordshire.
The clients then chose to have the A rated hardwood windows finished in a beautiful 'buttermilk' colour externally and white internally. This matched the colour that their old windows were previously painted. They also chose to have the traditional monkey tail handles which add character internally and from the photographs it's clear to see that they do look fantastic!
The locking system on these hardwood windows in Witney, Oxfordshire is also far superior to an old timber window and allows the window to be open slightly and locked at the same time for ventilation purposes.
The stable door also offers the flexibility of being partially opened for ventilation and is perfectly suited to this style of property.
Our clients are over the moon with their homes new hardwood windows in Witney, Oxfordshire and are also looking forward to the benefits of the extra warmth when the weather turns much colder.
If you have a period property and are looking to update your windows, we can aid in providing bespoke solutions for both you and your home. Feel free to contact us for a free no obligation quotation.
Products used
If you would also like to extend your home give us a call today to arrange a free consultation with a member of our design team