Splashbacks Oxford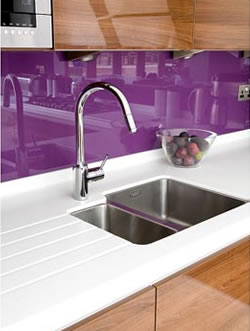 Glass splashbacks make a great feature in any kitchen, and are practical and easy to clean. Our splashbacks are available to you as a made to measure product and therefore will suit any kitchen and bathroom. We offer our splashbacks in a range of colours and as toughened glass to ensure durability.
Stunning splashbacks from Mcleans Windows
Mcleans Glass are proud of the diverse range of splash backs that we can offer our customers. We can even work with you to create your own design. The possibilities are endless so feel free to contact us to discuss your needs or read on for a brief overview.
Classic painted splashback

You choose a colour (using code or paint chips from major paint brands) and your glass will be painted to match. Even this simple, yet effective design is customised to your needs and we will ensure that it complements your kitchen perfectly.
Textured splashbacks

These beautiful premium decorative glass splash backs feature specks of crushed minerals. They offer a luxury contemporary finish and are available in three distinct colours-gold, silver and mixed.
The Italian collection

This range has been developed in Italy by a designer glass brand. The luxurious textured designs are exclusive and combine shimmering metallic and fabric like textures. If you are searching for a unique feature that will wow your guests at dinner parties then look no further.
Cobweb splash backs

These are handcrafted and inspired by the fine detail and coverage of spiders cobwebs. This ensures that every one is unique and enables you have a one of kind piece in your home.
Glitter splash backs

These are created by layers of metallic flakes, glitter, fine glitter or fibres being hand placed on the glass to leave a sharp, glittery sparkle finish. These are available in either copper or silver.
Printed splash backs

It's possible to have a design of your choice printed onto the splashback. Popular choices include: waves, food and drink images, landscapes, cityscapes, flowers and patterns.
All varieties can be either supplied only or surveyed and installed so please feel free to contact us regarding your requirements. We will be more than happy to help.
Features and benefits:

Made from 6mm Toughened glass
Both impact and heat resistant up to 400ºC.
Splashbacks come with a 10 year guarantee against discolouration.
Easy to wipe clean (no grout and minimum joint lines (if any!)
Custom designed and made-to-measure
High gloss finish
Hard wearing
Cut-outs for sockets and switches
Maximum single length of 4.5m
Why Choose Mcleans Windows?
All of our products are designed & custom made exactly to suit your chosen style & property. We can't give you an accurate price on line before seeing your project but we can give you the following commitments:
We pride ourselves on establishing your accurate needs in terms of window specification such that you can create the benchmark for 'like for like' prices for the work.
Our team of window designers are experienced in all aspects of the industry and will be able to identify the best product for your home
We would always look to provide you with a written quotation with all aspects of the work clearly laid out.
We strive for attention to detail from start to finish from quotation to installation and beyond
All of our work carries extensive warranties with added back up insurance for the ultimate peace of mind
You might also be interested in our mirrors, shower screens or glass polishing.