Heritage Flush Sash Windows Oxford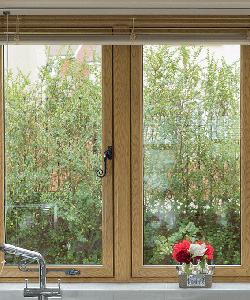 McLean's Glass is pleased to offer the Heritage Flush Sash windows as an exciting design option when renovating your windows. If you are looking for a bit of luxury then these windows are the perfect option and will look amazing on any style house from any period. Not only do they look amazing but they also offer a whole lot more that will help keep your home looking and feeling great for years to come.
Each Heritage Flush Sash window offers a traditional charm that will elevate the look of your property all while utilising modern technology to make your windows withstand the test of time. Excellence is key with these windows and they are manufactured with keen focus on detail and quality so that you have the perfect windows for your home.
They come with a range of wooden finishes and you can even opt for a stunning Georgian bar to be included in the windows, giving them a beautifully period look. While they may look like traditional frames, they are made using modern methods and have an A+ rating that will reducing your energy costs, making them an efficient choice.
Beautiful and Secure
So many of us enjoy a gentle breeze during the night but find that we have to avoid it due to home security concerns. This is a thing of the past with the Heritage Flush Sash windows as they boast a night vent that is totally unique, allowing you to get fresh air circulating without needing to have unlocked windows.
Each of these stunning windows has been given full PAS 24 approval, making them some of the safest on the market with multi locking points for no extra charge. When you add in the fact that they are also available in double and triple glazing, you will also be able to lock out any noise that would normally disturb your day.
If you love the sound of these windows but have a period property that is regulated by strict guidelines then you do not need to worry. The Heritage Flush Sash windows are made to meet each requirement of the majority of conversations offices over the country. So all you need to do is check them with your local officer to get approval to go ahead.
When you choose McLean's Glass you have access to top quality windows that are fitted by experts who take pride in their work. Why don't you call us today to discuss your requirements so that we can share all the window options we have with you. We are waiting to take your call.