Aluminium Windows Oxford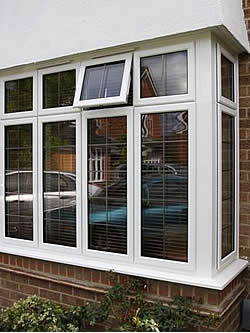 Our Alitherm range of aluminium windows in Oxford offers all you would expect from a quality system - greater comfort, better insulation, minimal maintenance, aesthtically pleasing appearance and enhanced security. In short, the Alitherm product range offers you peace of mind but even more it represents a sound investment in your property. Whatever your taste or style of home, we can offer distinctive aluminium window designs to suit. Our unique style of windows are available in a choice of finishes and colours externally including luxurious mahogany and rich golden oak as well as a white finish internally.
Alitherm aluminium windows have been designed to reduce heat loss by the use of a thermally broken aluminium frame with a polyamide bridge. The polyamide material has a very high resistance to heat transfer from the inner face of a frame (ie inside the room) to the external face of a frame (ie outside). The thermally broken frames provide homeowners in Oxford with aluminium windows that have distinct advantages.
Strength and durability are provided by the use of aluminium sections which gives structurally sound windows for your peace of mind.
Warmth and comfort are benefits enjoyed by homeowners because Alitherm windows are thermally efficient and contribute to a reduction in the cost of heating bills.
Elegant slim slightlines are features of Alitherm windows which are enhanced by an ovolo, chamfered or square profile edge appearance. Additionally, homeowners have a dual colour option which means having a choice of finishes and colours externally and internally.
What will it cost?
All of our products are designed & custom made exactly to suit your chosen style & property. We cant give you an accurate price on line before seeing your project but we can give you the following commitments:
Our prices for a like for like product will be very competitive
Our designers are there to help & advise not pressure you into a deal
Our passion for excellence & design ensures we will suggest the best solution for your project not simply to make a sale
We will provide you with a bound quotation, giving you full visibility and control of your options & choices
Our 20 years years experience means that you can be assured that your home will be in very safe hands when installing your new windows & doors
Our overall aim is to give the best value for money in the industry
You might also be interested in our sliding sash, timber alternative or wooden timber windows.