Residence R9 timber alternative windows, Watford, Hertfordshire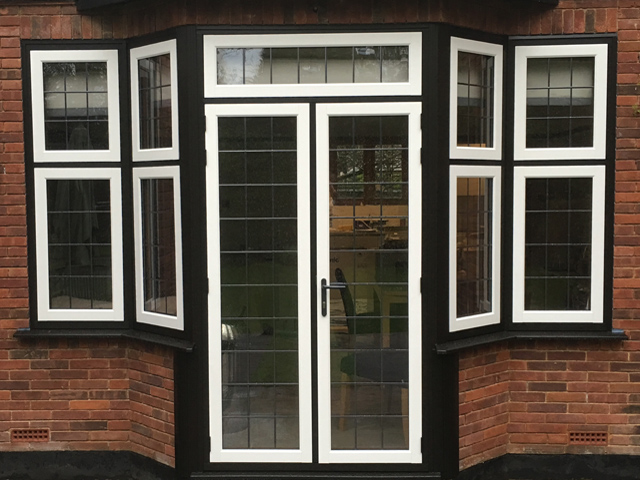 Stunning tudor style property
Our customers wished to update their windows and doors without ruining the wonderful look and style of the property. Many customers are put off from installing new UPVC timber windows and doors because of concerns that it could ruin the wonderful style of their building.
By showcasing such a beautiful property and project, we hope potential customers will be convinced that maintaining the look and style is truly possible.
The choice of windows and doors had to be in keeping with the style of the building in order for the installation to work, allowing it to complement the stunning feature windows and doors of the building.
Therefore, we recommended that we install Residence 9 as they expertly fuse traditional aesthetics with modern materials to create a window that is both elegant and energy efficient.
The perfectly flush exterior recreates a true timber alternative aesthetic, whilst the interior is stylishly decorative, creating a classic home feel.
Residence 9 windows outperform many other window systems due to the combination of sophisticated design, innovation and technological advancements. You can choose from highly efficient double or triple glazed units, attaining U-values of 0.8 with triple glazing, PassivHaus Standard, and 1.2 with double glazing, far surpassing the British Building Regulation requirements. All of this contributes to lower energy bills, keeping your home cosy in the winter and nice and cool in the summer.
The interior of the windows feature decorative hand forged monkey tail handles in antique black and these really help to create a traditional period feel. These windows really do stand out as an exceptional product.
This installation will aid in the energy efficiency of the home whilst maintaining the character of the property and giving that all important 'wow factor'. There's also far less maintenance now as the modern material is virtually maintenance free. The homeowners no longer need to paint the frames, cleaning the windows is now far less effort and the windows will look newer for much longer.