Rehau Rio Flush Windows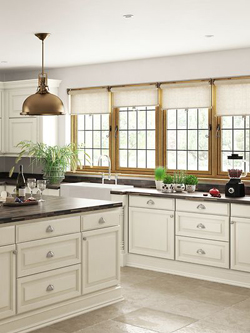 Are you in need of new windows but want something that is a bit more special than standard uPVC? Look no further as McLean's Glass are now fitting the beautiful Rehau Rio Flush Fit windows! Not only do they offer a modern style but they look and feel like timber all while offering the benefits of top quality uPVC. These windows make your home look stylish, feel warm and help you to keep the noise out.
Part of choosing new windows means you need to find ones that come in a range of colour and design options. If you are looking for something specific then you will be pleased to know that Rio Flush Fit windows come in a range of finishes for you to match to your current home. There are also three jointing options to suit your personal taste: fully welded, full mechanical and mechanical/weld mix.
Great design on all homes
These windows look great on all property types, meaning that it does not matter if you have a period home or a modern build as there are a range of designs and colour choices for you to choose from. More importantly, your new windows will be energy efficient (A rated), easy to maintain and withstand all types of weather with minimal fuss; all you have to do is enjoy them once they have been fully fitted.
Bold Innovation
Rio windows are bold on innovation and have so many modern features that will help to keep them looking great for many years to come. Rehau use a minimalist design with these windows so that your property looks sleek and inviting at all times. You can also sleep peacefully knowing that come with PAS24 security accreditation, giving you ultimate security so that your loved ones can relax at home.
If you like your style to move seamlessly from indoors to outdoors then the Rio Flush Windows are just what you need. Each window comes with option to use the same colour outside as you do inside, meaning that you can have a consistent, balanced style in every room. They are also sustainably manufactured with Rehau putting a huge effort into recycling materials wherever possible
All the Rio Flush Fit windows are manufactured in the UK, keeping Rehau's carbon footprint to a minimum as well as producing windows that will help you to reduce your energy bills. If you like the sound of these beautiful windows then do not hang around, get in touch with McLean's Glass today and let us help you create the home you have always dreamed of.